Ordinary tons of bags
Product Name: FIBC

Product parameters:

Applicable types: re-use type / single-use type

Shape: square / rectangular / round

Lifting method: top hanging / side hanging / bottom hanging

Feeding port: There are feed inlet / no inlet (large opening / waterproof cover cloth)

Outlet mouth: a discharge port / no discharge port

Raw material: Polypropylene (PP)

Load capacity: 0.3 tons -2 tons

Process: Raw materials → Drawing → Weaving → Ribbon → Cutting → Sewing → Acceptance → Hoisting Test → Packing
This product is related to the product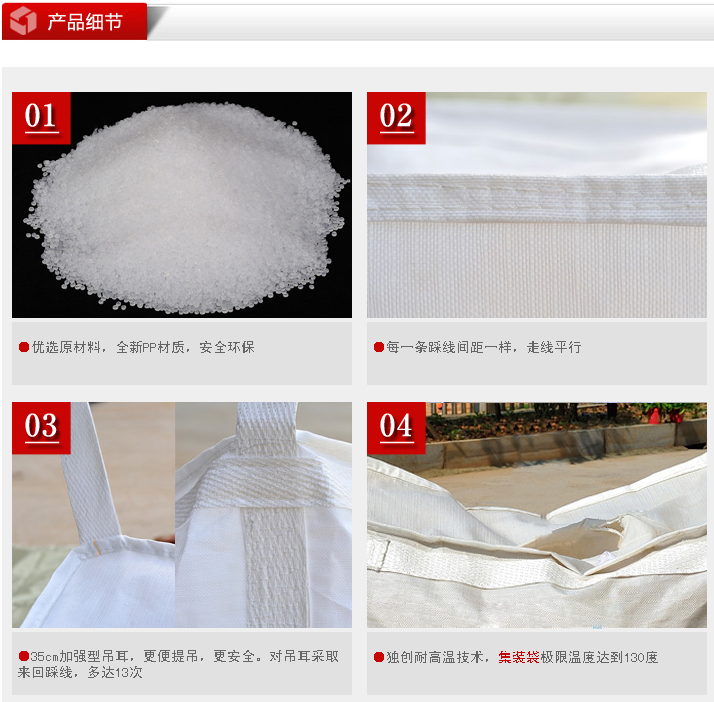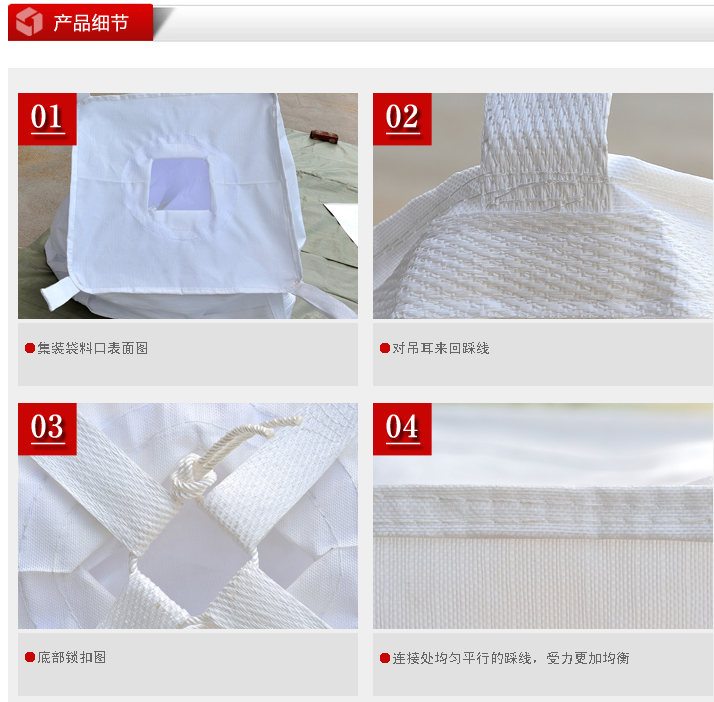 Product Name: FIBC
Features: 1, container load capacity between 0.5-3T in the 500-2300L between the insurance factor according to the user to 3: 1,5: 1,6: 1 design.
2, according to the contents of the goods are divided into bulk cargo containers and small packages of goods container bags two categories, for one-time use and working capital.
3, container bags by shape into round, square and U-shaped body of three.
4, the lifting structure of the top hanging type, side hanging and bottom hanging type, usually out of material mouth.
Product advantages:
1, the capacity of tons of bags of large capacity, in the loading time, eliminating the need to move back and forth many of the trouble porter, saving labor costs and risk costs.
2, in transit, due to the large volume of tons of packages, not easy to lose and stolen, to us and customers to reduce unnecessary losses.
3, tons of bags because of the quality is very good, even after use, you can also more easily recycling.
Product parameters:
Applicable types: re-use type / single-use type
Shape: square / rectangular / round
Lifting method: top hanging / side hanging / bottom hanging
Feeding port: There are feed inlet / no inlet (large opening / waterproof cover cloth)
Outlet mouth: a discharge port / no discharge port
Raw material: Polypropylene (PP)
Load capacity: 0.3 tons -2 tons
Process flow:
Raw material → drawing → weaving → webbing → cutting → sewing → acceptance → hoisting test → packing
Precautions:
1, Do not stand in the hoisting operations under the container bag.
2, hanging hook hanging in the middle of the strap or sling, do not tilt, single-sided hanging or hanging bag hanging bag.
3, do not work with other items friction, hook or collision container bags.
4, do not pull the strap to the outside of the reverse pull.
5, container bags using forklift operations, please do not make the fork contact or tie to the bag, to prevent the punched container bag.
6, in the workshop handling, try to use the tray, to avoid hanging hook with the container bags, one side of the shaking side of handling.
7, in the loading, unloading and stacking to maintain the container bag upright.
8, do not put the container bag upright.
9, do not drag the container bag on the ground or concrete.
10, a last resort in the outdoor custody, the container should be placed on the shelves, and be sure to use an opaque shelf cloth tightly cover the container bags.
11, after use, paper or opaque shed cloth bag will be wrapped, stored in a ventilated place.
Uses: chemical raw materials, pharmaceutical raw materials, plastic raw materials, food additives, feed additives, metallurgical powder, ore powder, refractory and all suitable for tons of bags of packaging industry.
Frequently Asked Questions: Do not follow the standard operation, resulting in the bag is damaged, causing serious accidents.